Leading Roof Hail Damage Repairs in Arvada & Surrounding Cities
As part of "Hail Alley", Colorado sees more severe hailstorms than most other states in the nation. Unfortunately, hailstorms can result in extensive property damage.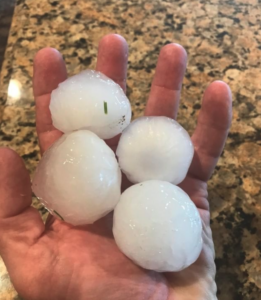 Your roof is particularly exposed to hail and high winds, often leading to significant damage after a hailstorm. At Restoration Contractors LLC in Arvada, we offer leading repair solutions for all types of hail damage. From dented and broken shingles to granule loss and even roofing leaks, our team can efficiently manage roof hail repairs.
The Restoration Contractors LLC team will make sure that your Arvada roof is restored to its proper condition after a hailstorm. We use long-lasting hail damage solutions to make sure that your roof isn't left vulnerable to future damage.
Don't hesitate to reach out to us after a storm for a prompt roof inspection. We'll assess the condition of your roof and recommend high-quality, cost-effective repair solutions to suit your needs.
Reputable Roof Inspections For Arvada Colorado Homeowners
The first step in the repair process for any type of roofing damage is a thorough inspection. To get the repairs that you need, it's important to have an expert roofing contractor check out the damage and recommend solutions.
Restoration Contractors LLC in Arvada provides detail-oriented roofing inspections for homeowners. Whether a hailstorm just passed through your area or you to complete a routine inspection, the Restoration Contractors LLC team is here to help.
If your roof is damaged, we'll determine the scope of repairs and an estimated timeline during the inspection. Our accomplished roofing contractors provide accurate estimates so that you can plan accordingly. Your time is valuable, and we complete roofing repairs with your convenience in mind.
Schedule Your Annual Roof Inspection Today.
Oftentimes, roofing damage doesn't make itself known. So, it's common to go for months or even years without realizing that the roof is damaged. Roofing damage can become much worse over time, leading to costlier, more extensive repairs.
Scheduling annual roof inspections with the Restoration Contractors LLC team will ensure that damage is identified and fixed before it becomes severe. Our experienced contractors can spot roofing damage in its early stages and recommend affordable solutions to mend it.
With regular inspections from Restoration Contractors LLC, you can feel confident in your roof's ability to withstand future storms and wear and tear.