Interior Water Damage Rebuild Experts in Arvada, CO
What is Water Damage?
Water damage can be defined as the destruction of property caused by contact with water. This includes everything from small puddles to floods. There are many causes of water damage, ranging from natural disasters such as powerful storms or flooding to everyday events like broken pipes, leaking toilets, and flooded basements. Depending on where you live, it could happen very quickly or over long periods. If you notice signs of water damage, call a professional immediately.
Categories of Water Damage
The average cost for category one water damage restoration ranges from $3-$4 per square foot. This includes cleaning up soil and debris, drying out wet areas, restoring structural integrity, restoring damaged property, and repairing or replacing appliances and electronics. In comparison, category two costs are typically double those of category one, ranging from $5-$7 per square foot. These costs include repairs to drywall, plaster, paint, wood, flooring, carpet, and furnishings.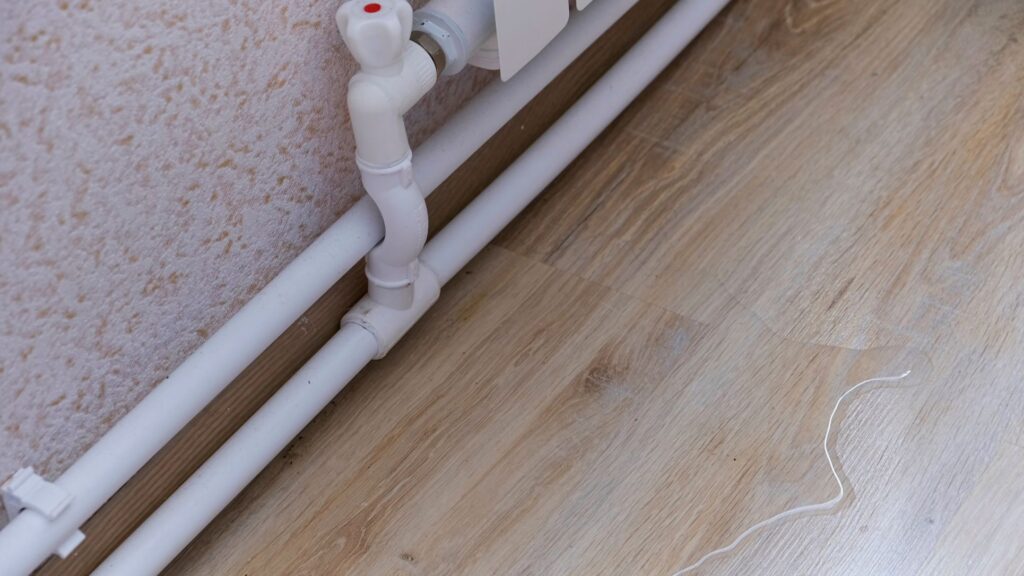 Category 1 Water Damage
Clean water is the easiest to restore, so you'll pay about $3 to $5 per square foot for this repair. This includes replacing damaged materials to fixing cracks in walls and ceilings. Drying alone won't help damaged materials like carpeting and drywall, so you'll likely spend more per square foot for the entire restoration process.
Damage caused by clean water usually begins with drinking sources. If you see mold growing inside a sink, toilet, or leaking pipes, that might be what's causing the problem.
Category 2 Water Damage
Grey water, also known as sullage, includes harmful pollutants like detergent, pesticides, and fertilizers that are much harder to filter out than clean water. Cleaning up grey water isn't easy. You're likely paying anywhere from $4 to $7 per square foot to dry it out, which doesn't include the cost of repairs.
The best way to prevent grey water problems is to install a sump pump. Sump pumps collect and drain grey water away from the house. They work great. Although, if you find yourself struggling to maintain adequate flow rates, consider installing a larger pump.
If you use a sump pump, ensure it's properly installed. Don't forget to add a float switch, check valve, and overflow pipe. These small parts ensure that the pump runs continuously without running too fast and damaging itself.
Another way to prevent grey water issues is to install a septic tank system. A septic tank collects waste from toilets and sinks and holds it until it can be safely removed. This method requires a lot less maintenance than a sump pump. However, it does need a large area to store the waste.
A third option is to purchase a grey water diverter. Diverters allow grey water to run directly into the ground. This is a good solution if you live in an area with no sewer infrastructure. But, since diverters aren't designed to handle high volumes of grey water, they often leak over time. And depending on how old the pipes are, a leak could cause severe damage to your home.
Finally, you can opt to build a custom grey water treatment system. This involves digging trenches in your yard and laying down piping to divert grey water away from the building. Once the grey water enters the trench, it travels through a gravel bed and drains into the soil. This system is expensive because it requires a lot of labor and materials.
Category 3 Water Damage
Black water is the most notorious type of wastewater inside your home. This is because it contains fecal matter, urine, grease, food particles, soap scum, mold, mildew, dirt, oil, and other chemicals. Black water typically ends up in drains, basements, and crawl spaces. If left untreated, black water can cause significant damage to both indoor and outdoor surfaces.
The cost to clean up black water ranges from $7 to $10 per square foot, depending on whether the area needs to be thoroughly disinfected. For example, cleaning a bathroom might cost $7-$7.50, while cleaning a kitchen could cost about $8.50-$9.
Once the problem is identified, the next step is usually to call a professional at Restoration Contractors to perform repairs or replace damaged areas.
Don't Wait To Repair Water Damage
Water damage doesn't always happen quickly, but once it starts, it spreads fast. This makes it essential to act immediately to prevent further damage. Once water enters a structure, it spreads very quickly. A wet floor can lead to mold growth, while even a small amount of moisture left behind from cleaning can cause mildew to grow.
The longer you wait to address water damage, the worse things become. When water gets into your home, it seeps into every nook and cranny. Mold spores are everywhere, and they thrive in damp conditions. They can grow anywhere, including inside drywall and insulation, where they can remain hidden for months.
If you don't take action soon, your insurance won't pay out for the full extent of the damage. And if you ignore the problem, the cost of repairing the damage could be high. You might have to replace everything from carpeting to drywall. But if you act fast, you can minimize the impact of water damage and keep costs down.
Here are some common signs of hidden water damage in your home:
Musty Odors
This is probably the most common sign of hidden water damage. When water gets into your walls, floors, ceilings, or subfloors, it can cause mildew and bacteria to grow. These odors are tough to detect unless you know how to look for them. They often smell like wet dogs or a damp basement.
Moisture Spots on Walls
There are many types of moisture spots, including condensation, stains, and watermarks. A leaky roof or faulty plumbing can cause these kinds of spots. In addition, high humidity levels can promote the growth of mold.
Drywall Cracks
You may have hidden water damage if you notice drywall cracks in your ceiling, walls, or subfloor. This type of crack is usually caused by excessive water pressure.
Buckling Floor Boards
You may have hidden damage if you see buckling floorboards, especially in areas near windows, doors, or appliances. This is likely due to excess water seeping under the floorboards.
Wet Floors
You may have hidden moisture damage if you notice wet carpet or linoleum. Leaks in your pipes or appliances typically cause this.
Swollen Furniture
If you notice the furniture looks swollen, you may have water damage. This happens when water enters your walls and expands the wood fibers.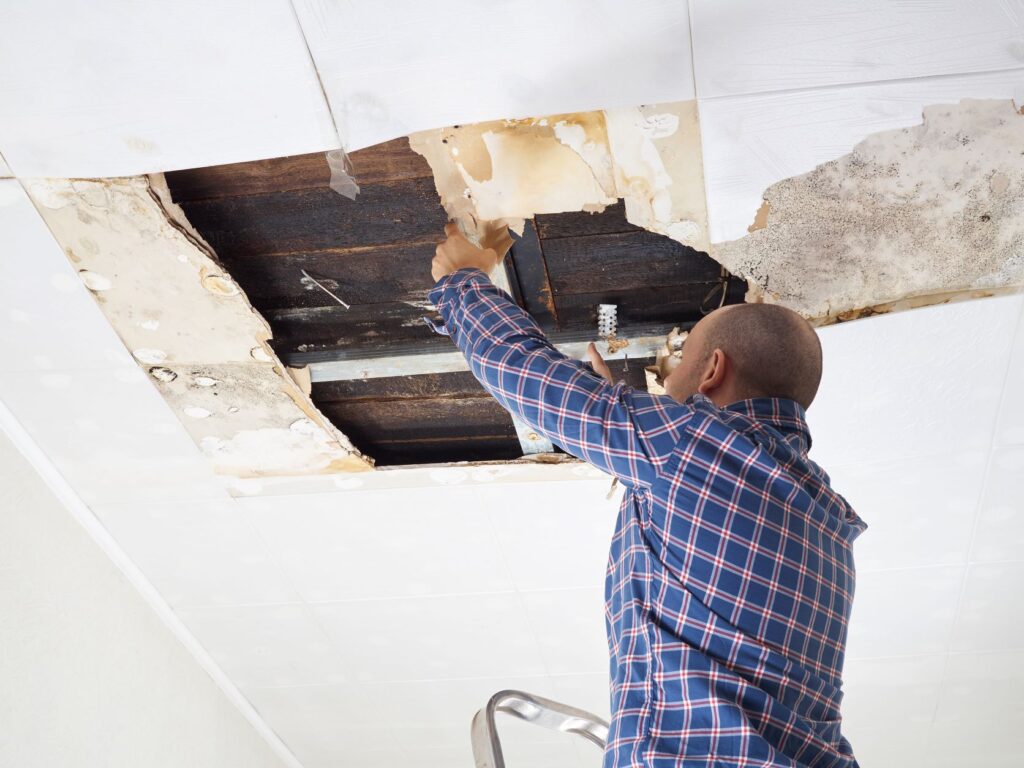 What Causes Water Damage?
Water damage can occur from flooding, broken pipes, leaking roofs, overflowing toilets, or malfunctioning appliances.
The most common sources of water damage are rainwater, plumbing leaks, roof leaks from storm damage, and floods. Water entering your house through damaged windows or doors usually gets trapped in the insulation around the window frames and doorframes.
Water damage is one of those things that everyone knows about, but few people understand how to prevent it. To help you avoid water damage, here is a list of common causes.
Flooding
There are many different kinds of flooding. Some floods happen suddenly, while others take place slowly over time. Regardless of the speed, flood waters can destroy everything in their path.
Storm Damage
In addition to rain, snow, hail, sleet, and freezing temperatures can wreak havoc on your home. If you live in an area where heavy storms are commonplace, like Colorado, you should always watch for signs of storm damage.
Leaks
Leaking pipes, faucets, toilets, sinks, and drains can lead to severe problems, including mold growth and structural damage. A leaky toilet can even lead to sewage backup.
Safety Post-Water Damage
Knowing what causes flooding and how to prevent future incidents is essential when dealing with floodwater. Flooding occurs when rainwater enters your home's pipes, causing them to overflow. This usually happens during heavy rainfall events. When this happens, you'll want to take action immediately. Here are some things you can do now to help protect your property:
• Turn off power to your house.
• Check for leaks in your roof and exterior walls.
• Make sure that your basement isn't flooded.
• Remove furniture from rooms where water might accumulate.
• Keep pets away from standing water.
• Avoid walking in areas where water is present.
Dealing With Water Damage
Knowing what to look for and how to handle the situation appropriately is essential when dealing with water damage in your home. If you don't take care of the problem immediately, you risk having further issues arise later. This includes the growth of bacteria, fungus, mildew, and other dangerous organisms. In addition, water damage can cause significant structural damage to your property.
We recommend calling our experts at Restoration Contractors for water damage cleanup services whenever you notice signs of water intrusion in your home. Our trained technicians are certified to assess the extent of the damage and provide you with the best possible solution.
If you've experienced long-term flooding or a recent flood, there's a chance some of your home's structural components, like floors, walls, ceilings, and cabinets, might be soaked. Even though you might think it's too late to salvage those items, it's never too late to start thinking about what you'll do once the water recedes. Here are five things you need to know about drying wet structures.
1. Water Damage Is Not A DIY Project
You don't want to attempt to dry your flooded structure yourself because you're probably not qualified enough to handle the task safely. Instead, call a professional at Restoration Contractors. We'll come and assess the situation, determine how much work needs to be done, and give you a price estimate.
2. Plan For Longer Than You Think
There's no set timeline for drying flooded areas. It depends on several factors, including the severity of the damage, the type of materials used, and the amount of moisture present. However, you should plan for at least three months.
3. Start With Your Basement
Your basement is one of the most vulnerable areas of your house. Moisture tends to collect here because it's the lowest point in your home. Even if you haven't seen any signs of dampness, checking your basement thoroughly is essential. Look around corners, under sinks, behind appliances, and anywhere else you see potential leaks. Once you find them, have them fixed immediately.
Water Damage Remediation
Water damage can occur in many ways. From plumbing failures to burst pipes, it can happen almost anywhere. Even small amounts of moisture in a building can cause significant problems if left unattended.
In fact, according to the National Fire Protection Association (NFPA), over $1 billion worth of property damage each year is caused by fire related to failed HVAC systems. In addition, NFPA estimates that more than half of all fires are caused by electrical malfunctions.
If you suspect that your home or commercial space is suffering from water damage, contact Restoration Contractors. Our certified team of experts responds quickly to assess the situation and provide emergency assistance. We use state-of-the-art technology and equipment to ensure that we effectively manage the water extraction process while minimizing disruption to your daily routine. Our goal is to restore your property as soon as possible.
Homeowners Insurance and Water Damage
Water damage is often one of the most expensive repairs homeowners face. But it doesn't have to break the bank. Many people don't realize that it's possible to protect themselves against unexpected flooding without spending a fortune.
If you've ever had a leaky faucet or pipe burst, you know how quickly water can destroy thousands of dollars worth of property. And if you haven't experienced this firsthand, you might think that water damage can't happen to you. After all, how much could water do to your house?
The answer is quite a lot. If you live in a region prone to heavy storms like Colorado, you're probably familiar with the stories of homes being destroyed because of a single storm. Even if you live where storm damages are rare, there are still plenty of risks. A small amount of rain can lead to severe problems like basement leaks and mold growth.
But did you know that homeowners insurance policies usually cover water damage caused by natural disasters? This includes floods, tornadoes, earthquakes, mudslides, landslides, and wildfires.
In addition to protecting against external forces like nature, some policies also offer protection against accidental spills and plumbing issues. For example, if you accidentally spill hot coffee on your carpet, your homeowners' insurance policy might cover cleaning costs. Or, if you experience a burst pipe, you'll likely be able to file a claim for the cost of repairing your flooring.
While this sounds great, keep in mind that coverage varies depending on your insurer. You'll want to check with your homeowner's insurance provider to determine what you're protected against.
Interior Water Damage Rebuild Experts
Restoration Contractors provides experienced interior water damage rebuild experts and advice on selecting the most qualified contractor for your remediation needs. When restoring water-damaged areas, we know that choosing the wrong provider could cost you thousands of dollars.
Our technicians are trained to perform indoor moisture detection and removal, air quality assessment, mold testing and remediation, and surface cleaning and drying. They use state-of-the-art technology to identify the source of the problem and develop a plan to fix it. We guarantee that every job exceeds industry standards. Call us today at 720-222-0809.